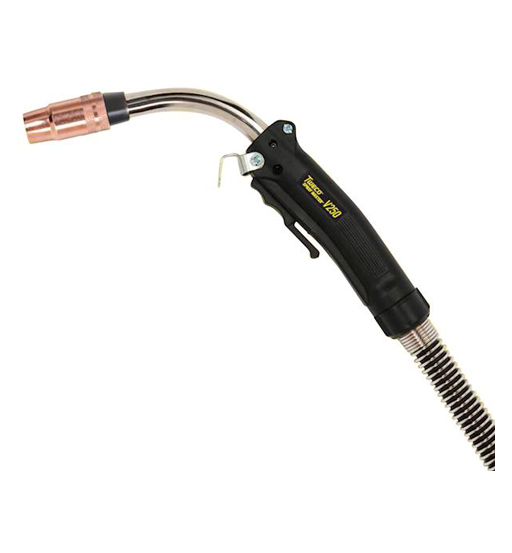 Cable Length : 15ft (4.6Mtr)
Wire Size ; 0.045"
Features.
The Spray Master MIG Gun receives Velocity Medium and Heavy Duty consumables to create a new line of MIG guns, the Spray Master V-Series. Spray Master V-Series maintains the features that made the original Spray Master legendary:
Compact Ergonomic Handle Design is preferred by many for comfort and maneuverability while reducing operator fatigue.
Extended Length Trigger allows welders to adjust and reposition their grip for access, comfort and to avoid radiated heat. Adjusting your grip helps avoid repetitive motion, thus reducing fatigue.
Fully Rotatable Conductor Tube allows welders further options to reconfigure the MIG Gun form factor to solve access issues, improve maneuverability, as well as, reducing fatigue and adjusting for comfort.
Originally Designed for Spray and Pulse transfer modes, the new Velocity conductor tube maintains the copper needed for high duty cycle welding.
Maintains the Original Tweco Cablehoz in 250, 350, and 450 Amp versions that provide the required electrical and thermal conductivity along with cable flexibility that is best in class.
V250 Amp - Wire Size: Up to 0.045 inches (1.2 mm)
Euro-Kwik Style Rear Connector.
Size :